Hydraulic Cylinders - Clearance
Save money on high-quality hydraulic cylinders when you buy from SafetyLiftinGear.com! We have a wide range of discount hydraulics available here in our Clearance section, so if you're looking for a cheap hydraulic cylinder or pad jack, you've come to the right place.
Choose from the following hydraulic products: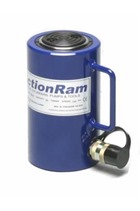 Was:

£172.77
(£143.98 ex VAT)
Now: £143.98
(£119.98 ex VAT)
Buy Now
Was:

£187.17
(£155.98 ex VAT)
Now: £155.98
(£129.98 ex VAT)
Buy Now
Our Clearance Hydraulics Range
Looking for a great discount on your hydraulic cylinder or jack? On this page, you'll find all of our latest offers on hydraulic products - simply click 'Buy Now' to learn more about your chosen product and make a purchase via our secure online checkout system.
We offer superb discount deals on the following pieces of hydraulic equipment:
Bottle Jacks
Pad jacks
Hydraulic cylinders (including hollow cylinders)
Our stock is very limited, so if you want to get the best possible price, be sure to purchase your hydraulics ASAP!
Can't find what you're looking for? Click here to view all hydraulic equipment >