Genie Lifting Equipment
Genie Industries was founded in 1966 by American entreprenuer Bud Bushnell after he purchased a failing company and its inventory. After seeing merit in a lifting device powered by bottled compressed air, Bushnell decided to take a chance and started his own company, Genie Industries.
Fast forward nearly 55 years, Genie Industries has experienced several highs and lows but prospered into one of the leading manufacturers of aerial lift equipment such as material lifts and work platorms.
You can browse our collection of high-quality Genie material handling products below: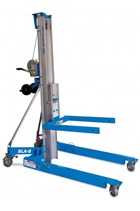 Was:

£3,887.97
(£3,239.98 ex VAT)
Now: £3,369.58
(£2,807.98 ex VAT)
Buy Now
Hire Me
More on our Genie equipment
Did you know that Genie material handling products are used in a variety of industries all over the world? The sectors that utilise Genie lifting equipment to carry out a range of lifting applications include:
Rental
Construction
Aviation
Entertainment
Industrial
Government
Military
Retail
Warehouse
With such a wide range of industries and applications served using Genie products, you can rest assured that your lifting activities will be safe and succesful using these products also.
Our Genie products are also availavble for hire, so even if you need one of our Genie material lifts for short-term use, we are able to supply!