Pallet Racking Protectors
If you are concerned that your pallet racking system may be damaged as a result of the day-to-day activity in your warehouse, our pallet rack guards represent a simple yet elegant solution. These pallet racking protectors are ideal for protecting racks from damage / wear and tear.
To proceed with your purchase, please select a product: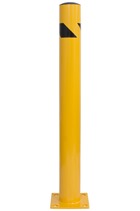 Was:

£57.57
(£47.98 ex VAT)
Now: £52.66
(£43.88 ex VAT)
Buy Now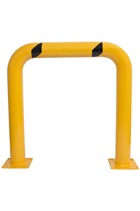 Was:

£129.57
(£107.98 ex VAT)
Now: £118.52
(£98.77 ex VAT)
Buy Now
Benefits of Our Pallet Rack Guards
Our rack guards are designed to be mounted to the floor of your warehouse. By using these protectors to safeguard your racking system, you will:
Reduce the risk of damage




Minimise the chance of a collapse (potentially resulting in injuries, loss of stock/revenue, etc.)




Increase the visibility of your pallet rack(s)
If you have any questions about our pallet racking protectors, please don't hesitate to get in touch.