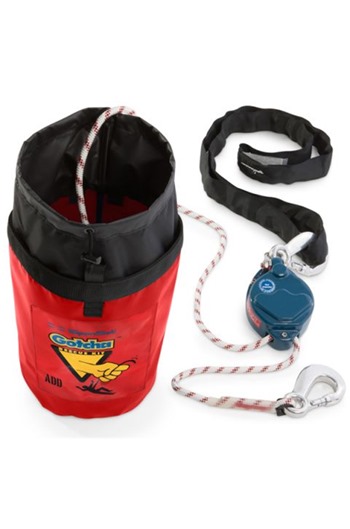 DELIVERY IS 4-5 DAYS FROM DATE OF ORDER (Supplied Direct from Manufacturer Partner)
GOTCHA ADD 30mtr Evacuation Kit
Product Code:
GOTCHA-ADD-30M
Product Info
Specifications
Price Breaks
GOTCHA ADD 30mtr Evacuation Kit
Controlled rate descent rescue kit without raising feature
Suitable for evacuation from: Straddle Carriers, Dock Cranes, Elevated work platforms, etc
Evacuation direction - The GOTCHA ADD lowers the evacuee at a constant rate and is ideal for a un-obstructed decent to a point of safety
Pre-Assembled. No assembly is required by the user
Multiple Evacuees. The kit is designed to be used for multiple descents in an emergency
One person use
The GOTCHA ADD is rated for loads up to 225kg Maximum Working Load
Conforms to CE EN: 341 Class A
Exclusive Web Only Price!
Was:
£1,105.89
£921.58 (ex VAT)
Ask SafetyLiftinGear a Question
Login or Register to Ask a Question