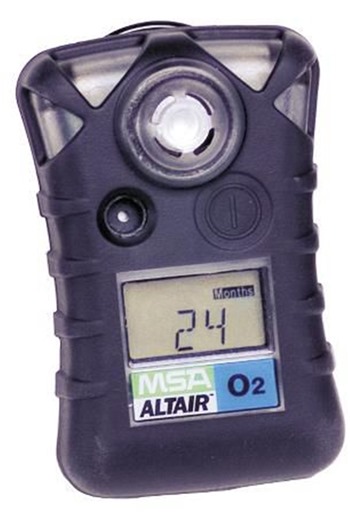 MSA Altair Single-Gas Monitor, Oxygen (O2)
Product Code:
MSA-10092523
Product Info
Specifications
Price Breaks
MSA Altair Single-Gas Monitor, Oxygen (O2)
The MSA Altair is a maintenance free Single-Gas Detector suitable for detecting oxygen deficiency (O2)
The Alair provides two years or 1080 alarm minutes of service life under warranty with no maintenance. This Instrument will not deactivate after two years of operation but will continue to perform as long as battery capacity allows. No calibration, sensor change or battery change is needed
Features:-
Highly visible LED's

Audible alarm at 95 dB at 30 cm

Simple bump check with checkmark for 24 hours

Easy to read display

Strong vibration alarm

Robust, easy to grip design

1st Alarm - 19.5%

2nd Alarm - 23%

IP rating: IP67

Instrument life: > 2years at an average of 2 minutes of alarm per day

Operating range: -20°C to +50°C

Size: 81 x 51 x 23mm

Weight: 85g

Part code: 10092523
Exclusive Web Only Price!
Was:
£250.53
£208.78 (ex VAT)
Ask SafetyLiftinGear a Question
Login or Register to Ask a Question