Children's Climbing Equipment
If your little ones are going climbing or trying another activity that will require them to scale potentially hazardous heights, our safety harnesses will ensure that they stay safe in the process.
We have a great selection of children's climbing equipment on offer - choose from the products below, or get in touch if you can't find what you're looking for. £36.44
inc VAT
(£30.37 ex VAT)
Buy Now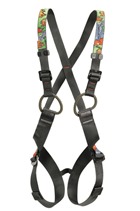 £36.44
inc VAT
(£30.37 ex VAT)
Buy Now
£51.07
inc VAT
(£42.56 ex VAT)
Buy Now
Safety Harnesses for Children Aged 4-9
The height safety equipment on this page is specifically designed for children between the ages of 4 and 9 years old. If you are trying to find climbing equipment for an older child, you may be able to find a suitable product in our main safety harnesses department; alternatively, feel free to email sales@safetylifitngear.com with details of your requirements and our sales team will endeavour to assist you.
Height safety is an extremely important consideration, as even a short fall can be critically dangerous in some circumstances (particularly if sustained by a small child). Our safety harnesses and climbing helmets will help your little ones to stay protected while they play, giving you the peace of mind to let them explore freely!