Trolley Jacks
If you lift cars or other extremely heavy loads on a regular basis, SafetyLiftinGear.com's hydraulic trolley jacks will allow you to do so with ease. We sell a range of heavy-duty floor jacks here at SafetyLiftinGear, enabling you to lift loads of up to 10 tonnes without any difficulty whatsoever.
To find the hydraulic trolley jack that best suits your needs, please select a product from the options below. The maximum load for each hydraulic trolley floor jack is clearly marked in the product description, so you can be sure that the trolley floor jack you choose is suitable for your needs.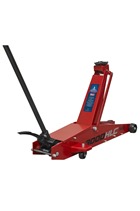 Was:

£450.02
(£375.02 ex VAT)
Now: £443.98
(£369.98 ex VAT)
Buy Now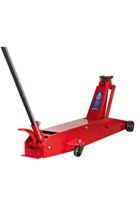 Was:

£717.34
(£597.78 ex VAT)
Now: £740.22
(£616.85 ex VAT)
Buy Now
Was:

£946.84
(£789.03 ex VAT)
Now: £1,019.98
(£849.98 ex VAT)
Buy Now
More About Out Hydraulic Trolley Jacks
Trolley jacks are most commonly seen in garages, where they are used to lift vehicles and other large mechanical items. The heavy-duty hydraulic trolleys that we sell can be used for a variety of purposes, which include:
Car maintenance and repair (domestic and commercial)
Motorsport (e.g. F1 pits)
Factories
Mechanic garages
The hassle-free wheeled design of our hydraulic trolley jacks makes them easy to manoeuvre in and out of position, providing fantastic usability. In order to provide peace of mind to our customers, all of our floor jacks are also tested and certified to guarantee safety, reliability and longevity.
If you have any further questions about our range of hydraulic trolley jacks, please feel free to get in touch with a member of the SafetyLiftinGear team.