Builders Gantry Hoists
Our builders gantry hoists are ideal for construction jobs that require the lifting and lowering of tools and materials between two levels. Each gantry hoist set comes complete with frrames and an electric wire rope hoist for easy automated lifting and lowering.
Choose from the following gantry hoists:
Was:

£2,877.12
(£2,397.60 ex VAT)
Now: £2,704.19
(£2,253.49 ex VAT)
Buy Now
Hire Me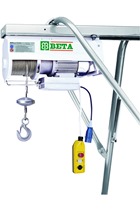 Was:

£3,597.12
(£2,997.60 ex VAT)
Now: £3,380.90
(£2,817.42 ex VAT)
Buy Now
Hire Me
Buy or Hire Your Gantry Hoist from SafetyLiftinGear.com
Sometimes, construction workers need to quickly pass tools, building materials and other objects from ground level to an above-ground area (or vice versa). SafetyLiftinGear's builders gantry hoists make this task efficient and easy, with our high-quality electric wire rope hoists providing smooth and fast lifting/lowering action.
For instance, if you are working on the roof of a building and you need to bring up some materials from the ground below, a gantry hoist allows you to hoist up the required goods without going down to fetch them yourself.
If you'd like to know more about our builders gantry hoists, please get in touch with SafetyLiftinGear.com today.