Lifting Davit
If you're looking for a way to make your lifting tasks easier, safer and faster, look no further than SafetyLiftinGear's collection of Lifting Davits!
Our lightweight swivel davits are available to purchase in a variety of safe working limits (125/250/500kg), perfect for a variety of on-site lifting applications. Manufactured with galvanised materials to prevent corrosions, our lifting davits are suited for a range of environments, whethers indoors or out.
Browse our full Lifting Davit collection below: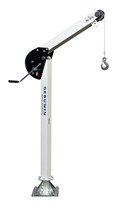 Was:

£2,014.53
(£1,678.78 ex VAT)
Now: £1,859.98
(£1,549.98 ex VAT)
Buy Now
Was:

£2,087.97
(£1,739.98 ex VAT)
Now: £1,919.98
(£1,599.98 ex VAT)
Buy Now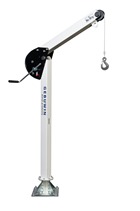 Was:

£2,159.97
(£1,799.98 ex VAT)
Now: £1,979.98
(£1,649.98 ex VAT)
Buy Now
More Information: Lifting Davit
As with many products on our site, our lifting davit collection is able to be customised to meet your exact lifitng requirements. You can find the product specifications for our davits here:
Integrated winch and rope in an ergonomic modern design
360° rotation over a built-in pivot bearing
Model: SD125
1st cable layer: 125/250/500kg
Last cable layer (7): 125/250/500kg
Crankforce 1st cable position: 10daN
Hoisting length one rotation, 1st layer: 20mm
Max cable storage: 24mtr
Diameter cable: 4mm
Davit weight: 25kg
Floor socket weight: 7kg
For more information of our lifting davit collection, be sure to get in touch with a member of the SafetyLiftinGear team today by calling 0117 9381 600 or email sales@safetyliftingear.com.