Farm Jacks
If you're looking for a versatile and reliable solution for heavy moving operations, then look no further than our high-quality farm jacks. Suitable for lifting, pulling and pushing, these jacks provide excellent support for a wide variety of operations, making them a great investment, particularly for agricultural workers.
Whether it's indoor loading and unloading applications, or off-road task such as removing tree stumps, a high-lift farm jack from SafetyLiftinGear will provide reliable support, while being simple and hassle-free to use.
For more details about our farm jacks, choose from the options below: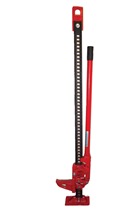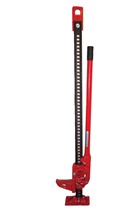 Ordering Your High-Lift Farm Jack
Whether you need a long-term solution for regular load-moving operations, or you're simply in need of a one-off solution for a particular application, then you're sure to find a great deal with SafetyLiftinGear.
To provide customers with flexibility and great value for money, it is possible to order a farm jack to hire or purchase at competitive prices. We also have quantity price breaks available for those who require a larger order of farm jacks, in order to provide great quality at a low cost.
If you have any questions about our farm jacks, or you need help finding a product that you're looking for, then please don't hesitate to get in touch with the SafetyLiftinGear team, either by calling 0117 9381 600 or emailing sales@safetyliftingear.com.