Telescopic Ladders
Our Telescopic Ladders make it easy to access out-of-reach areas and work safely at height. They are sturdy yet lightweight, so you should be able to transport your telescopic ladder from one job to the next without any hassle.
These telescopic ladders can be adjusted to a range of different heights. Collapsible ladders are perfect for moving to different locations, yet still provide ample access to hard to reach places when extended tto the desired length.
To order your collapsible ladder from SafetyLiftinGear.com, please choose from the following products: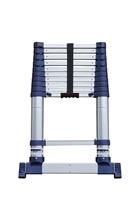 Was:

£212.75
(£177.29 ex VAT)
Now: £204.80
(£170.67 ex VAT)
Buy Now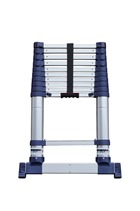 Was:

£248.76
(£207.30 ex VAT)
Now: £235.76
(£196.47 ex VAT)
Buy Now
More on Our Telescopic Ladders
Our telescopic ladders have a sleek, user-friendly, collapsible design that makes it easy to achieve the correct height. Simply adjust the ladder to make it taller or shorter as required.
Using an adjustable telescopic ladder for at-height work will save you time and help to ensure your safety (and that of your employees) while working. All of the telescopic ladders listed on this page are extremely popular, and each one has received outstanding reviews from our customers, so you can buy with confidence!
If you need to stay safe will working at height (and need more than just a telescopic ladder), please be sure to visit our Height Safety department, where you'll find a wide range of products to help you stay safe.