Confined Space Kits
For secure and reliable confined space entry and rescue operations, we provide a selection of confined space kits in a variety of combinations. For retrieval applications, we supply a range of tripod and winch combination kits in a choice of sizes, each of which are made from lightweight aluminium for easy transportation.
We also supply full confined space rescue kits, which include a safety harness, breathing apparatus, gas detector, and more! For increased flexibility, we can also supply a multi-purpose tripod and gantry set as part of our confined space range, which can be used for both confined space working, and mateiral lifting.
Featured Products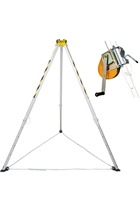 Was:

£1,029.57
(£857.98 ex VAT)
Now: £870.84
(£725.70 ex VAT)
Buy Now
Hire Me
Was:

£1,716.12
(£1,430.10 ex VAT)
Now: £1,427.98
(£1,189.98 ex VAT)
Buy Now
Hire Me Was:

£1,742.37
(£1,451.98 ex VAT)
Now: £1,511.98
(£1,259.98 ex VAT)
Buy Now
Hire Me Was:

£2,271.70
(£1,893.08 ex VAT)
Now: £1,871.94
(£1,559.95 ex VAT)
Buy Now
Was:

£3,196.77
(£2,663.98 ex VAT)
Now: £2,663.98
(£2,219.98 ex VAT)
Buy Now
Hire Me
Ordering Our Confined Space Rescue Kits
All of our confined space recue kits are available both to hire or buy, allowing you to choose the payment option which best suits your application, and budget. To order, simply select either the 'Buy Now' or 'Hire Me' button displayed next to your chosen confined space rescue kit, then follow the on-screen instructions to complete your enquiry/purchase.
If you would like to purchase the items supplied in our confined space kits individually, you can do so by viewing our full range of confined space equipment here.
If you have any questions regarding our confined space kits, simply head to our contact page to get in touch, and we will get back to you as soon as possible.