Wheelie Bin Lifter
Our fork mounted Wheelie Bin Lifter collection is designed to provide an easy solution to lifting a range of bins, ranging up to 1100ltrs safely and efficiently. With waste management becoming increasingly common, our range of Wheelie Bin Lifters offers a great way to solve this problem!
Browse our full Wheelie Bin Lifter range below: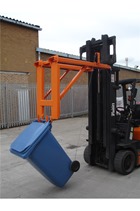 Was:

£1,173.31
(£977.76 ex VAT)
Now: £980.70
(£817.25 ex VAT)
Buy Now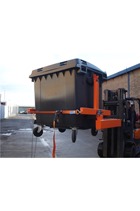 Was:

£4,226.69
(£3,522.24 ex VAT)
Now: £3,525.18
(£2,937.65 ex VAT)
Buy Now
Hire Me
Wheelie Bin Lifters
Solve all your waste management solutions with our Wheelie Bin Lifters.

If you need any help ordering your Wheelie Bin Lifter, please don't hesitate to give us a call on 0117 9381 600 or email sales@safetyliftingear.com.