Protect Your Vision With Our Safety Glasses
Protecting your vision is highly important in any environment, but is particularly vital for those who work in hazardous work areas, where they are likely to come into contact with dust and flying objects.
Here at SafetyLiftinGear, we have a selection of high-quality safety glasses, which are specially designed to protect the sensitive eye area from injury. These safety glasses are not only tough, but are also highly affordable, making them a great choice for at-home users and professionals alike!
We also sell safety goggles that fully encase the eye area.
Was:

£1.99
(£1.66 ex VAT)
Now: £1.38
(£1.15 ex VAT)
Buy Now
Was:

£2.29
(£1.91 ex VAT)
Now: £1.55
(£1.29 ex VAT)
Buy Now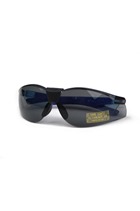 £2.11
inc VAT
(£1.76 ex VAT)
Buy Now
Benefits of Our Safety Glasses
The safety glasses we supply have a fantastic range of benefits, including:
Tough, polycarbonate lenses
Flexibilty (some can be used over personal glasses)
Design features for comfortable wear
Side protection
CE & EN166 compliant
Do you have any questions about our safety glasses? Simply get in touch with a member of our friendly team, using the contact details provided here.