Pulleys
Our high-quality pulleys are ideal for various rope-handling applications. Both light-weight and strong, the sleek design of the pulley allows it to be used for a number of diverse jobs. You can rely on the quality of our pulleys time after time making them a fantastic addition to any lifting equipment.
Was:

£286.38
(£238.65 ex VAT)
Now: £222.13
(£185.11 ex VAT)
Buy Now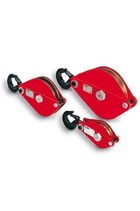 Was:

£400.93
(£334.11 ex VAT)
Now: £360.31
(£300.26 ex VAT)
Buy Now
Choosing The Right Pulley
All pulleys come with their own individual specification.

Be sure to check the specifications of our pulleys to make sure they correctly suit your requirements.
If you have any questions about our pulleys, don't hesitate to get in touch. Our team is always more than happy to help so give us a ring on 0808 123 69 69.