4x4 Winch (Battery)
If you need a lasting and reliable solution for pulling and rigging operations, then our flexible and powerful 4x4 winch (battery) kit is ideal! This battery powered winch kit from Duke is great for outdoor operations such as off-road pulling, as well as other tasks which require the use of a hoist and winch without a power source.
To add to its range of benefits, our battery winch also has a compact and lightweight design, making it the perfect portable 4x4 winch. The kit also comes neatly stored in a convenient carry case, for easy organisation and safe storage.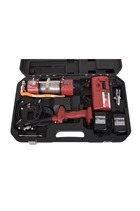 Was:

£799.98
(£666.65 ex VAT)
Now: £687.90
(£573.25 ex VAT)
Buy Now
Ordering a battery powered winch kit
If you would like to order a powered winch kit from SafetyLiftinGear, then you'll be pleased to find out that this high-quality portable 4x4 winch (battery) is available both to buy or hire, depending on your needs.
There are also quantity price breaks available for those who require a larger number of winches, giving you the best value for money on your battery powered winches.
If you would like more information about this portable 4x4 winch (battery) kit, or if you have any other questions for the SafetyLiftinGear team, then please don't hesitate to get in touch.
You can call us on 0808 123 6969, or email sales@safetyliftingear.com.