Cargo Bars
A ratcheting cargo bar from SafetyLiftinGear.com represents a superb load restraint solution. These bars have a lightweight yet sturdy aluminium construction, and the ratchet mechanism itself is very simple to operate, allowing for easy adjusting and locking.
Click on a product for further information, or contact SafetyLiftinGear to speak with a member of our customer service team.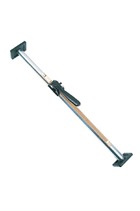 What is a Ratcheting Cargo Bar?
A cargo bar is a load restraint product that's ideal for keeping goods on pickup trucks and other vehicles while in transit. The cargo bar is adjusted to the required size, then placed across the width of the vehicle to prevent items from sliding off the truck. The bar is held in place by high-grip rubber feet.
SafetyLiftinGear's high-quality cargo bars boast a sturdy construction and an easy-to-use ratcheting mechanism. Check the information on the product page for minimum and maximum length measurements.
Looking for a different solution? Click here to browse our Load Restraint department.