Battery Powered Pump
A battery operated pump is a great investment for times when you need to work in conditions where there is no power source. They are compact, portable and easy to use!
Our battery operated pumps can be used in conjunction with single-acting cylinders, hydraulic spreaders and much more - making them a versatile and investment worthy piece of kit.
Take a look at the Battery Powered Pumps we currently have in stock here:
Was:

£2,064.31
(£1,720.26 ex VAT)
Now: £1,961.36
(£1,634.47 ex VAT)
Buy Now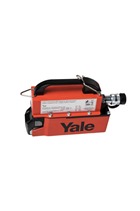 Was:

£2,329.70
(£1,941.42 ex VAT)
Now: £2,213.53
(£1,844.61 ex VAT)
Buy Now
If you have any questions about our battery operated pumps - or if we can help with any other queries you may have, give us a call on 0117 9381 600.