Single Phase Electric Hoists (110V & 240V)
Our Electric Lifting Hoists are the perfect piece of equipment to assist lifting applications where a manual hoist is not enough. Available both to buy and hire, our Electric Chain Hoist collection can be used to lift loads of up to 1 tonne - each Electric Hoist has a different weight limit, so please be sure to check this before making your selection.
SafetyLiftinGear's single phase Electric Chain Hoists are available in both 110V and 240V configurations. Browse our entire Electric Hoist range below:
Featured Products
Was:

£143.97
(£119.98 ex VAT)
Now: £170.98
(£142.48 ex VAT)
Buy Now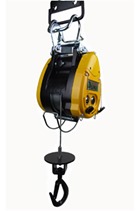 Electric Chain Hoist - Further Information:
As you can see, we have a comprehensive collection of Electric Chain Hoists in stock for our customers to choose from. Each one has its own specific weight limit - again, please make sure that the electric chain hoist you purchase is suitable for the loads you are planning to lift.
SafetyLiftinGear's Single Phase Hoists are compact, lightweight, and durable, making them ideal for almost any purpose. Each one is available in a 240 volt and a 110-volt version, allowing you to get the right hoist for the job no matter where you'll be using it. We encourage customers to browse our Electric Hoist Range thoroughly, as each item offers a different speed, lift height, rope length, and so on.
Electric Hoist Hire - Each one of our Electric Chain Hoists is available for hire as well as full purchase, making them ideal for one-off jobs and applications. To complete your Electric Hoist hire, simply select the Hire Me option below your desired product to add it to your hire basket. Once complete, proceed to your hire basket and select the Enquire option to begin the quotation process.
Also available: 3 phase hoists