Scaffolding Runway Systems
Scaffolding runway systems are a great piece of equipmet for those looking to suspend electric or manual chain hoists on-site and getting heavy loads to the top of any scaffolding structure.
Each one of the systems we provide are modular, extendable and come supplied with additonal components in a full kit.
Click on a desired runway system below to learn more: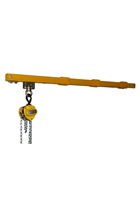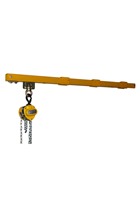 More on our scaffolding runway systems
One of the biggest advantages of our scaffolding runway systems is that you can constantly re-configure them thaks to their modular design. This allows you to achieve either a longer or shorter system with the additon or exclusion of additonal components.
For more information on our scaffolding runway systems, please do not hesitate to get in touch with a member of the SLG team today - we'd be more than happy to help.