Pallet Grabber
Transport heavy loads around your warehouse with our pallet grabs. Ideal for safe movement around busy sites, simply attach the pallet grabber to your pallet and forklift truck for easy and safe movement. Resistant to wear and corrosion, this long lasting pallet grab is an essential for all safe loading in your warehouse.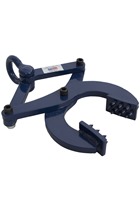 Was:

£56.09
(£46.74 ex VAT)
Now: £46.74
(£38.95 ex VAT)
Buy Now
Pallet Grabs
Our pallet grab is ideal for a number of trades including warehouses, manufacturing and shipping. A practical solution to transporting goods, our pallet grabber will allow you to move products and materials freely and safely around your workplace.
To find our more about our pallet grab, visit our contact us page. Our team of helpful experts are always happy to help answer your queries.