Confined Space Rescue: Tripods, Hoists, Winches and More
Here at SafetyLiftinGear, we sell an extensive range of confined space rescue equipment which is designed to keep you safe whilst entering, escaping, and working within an enclosed space.
On this page, you will find a variety of tripods, hoists, winches, fall arrest blocks, and several other items considered essential for anyone who works in confined spaces. Find peace of mind with the confined space rescue equipment offered by Safety Lifting Gear!
Choose from the following confined space rescue products:
Featured Products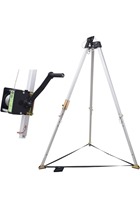 Was:

£1,148.40
(£957.00 ex VAT)
Now: £957.00
(£797.50 ex VAT)
Buy Now
Hire Me
Was:

£1,716.12
(£1,430.10 ex VAT)
Now: £1,427.98
(£1,189.98 ex VAT)
Buy Now
Hire Me
Was:

£1,605.57
(£1,337.98 ex VAT)
Now: £1,439.98
(£1,199.98 ex VAT)
Buy Now
Hire Me
Was:

£2,076.98
(£1,730.82 ex VAT)
Now: £1,763.98
(£1,469.98 ex VAT)
Buy Now
Hire Me
Stay Safe in Confined Spaces
Enclosed workspaces such as pipes, pits, sewers, silos and tanks can be extremely hazardous for the people who work within them. Common risks include drowning, lack of oxygen, exposure to poisonous gases, and loss of consciousness due to high temperatures.
SafetyLiftinGear's confined space rescue equipment is manufactured to the highest quality and specifically designed to keep workers safe in enclosed spaces. For example, our confined space tripods and winches allow for safe, easy entry and escape, and they can be used to keep you from falling or getting trapped while work is taking place.
Our Confined Space Equipment also includes a variety of other items, such as gas detectors, breathing devices, and safety harnesses.
If you have any questions about our confined space rescue products, please get in touch.