Pallet Trucks
Pallet trucks are ideal for moving pallets around the warehouses and similar work environments.
Here at SafetyLiftinGear, we supply a wide variety of different pump trucks and pallet lifters, including heavy-duty pallet trucks with a high Weight Load Limit (WLL) as well as high lift pallet trucks with an increased maximum height.
Featured Products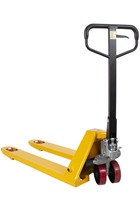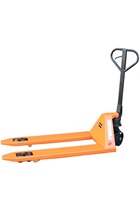 Heavy-Duty Pallet Trucks from SafetyLiftinGear
We have a huge range of pallet trucks available to buy and hire, including:
High-lift pallet trucks that save you bending down to unload pallets
Long pallet trucks with extra-large forks
Pallet trucks with scales for weighing loads
All-terrain pallet trucks that can handlle rough surfaces
We even have a range of electric pallet trucks to make lifting pallets easier than ever before!
How to use a pallet truck
Before you do anything, give the pallet jack a quick inspection to confirm that everything is in good working order.

Don't overload your pallet truck - check the working load limit (WLL) and make sure you don't exceed it.

Pull, don't push. To avoid physical injury to yourself, use correct form and posture when moving the pallet truck.
If you are looking to buy a pallet truck but do not feel that any of the items on this page suit your requirements, please get in touch with SafetyLiftinGear's customer service team.
We pride ourselves on providing a truly exhaustive range of pallet trucks and trolleys, so even if you cannot find what you are looking for on our website, we are confident that we will still be able to provide a suitable solution for you. Whether you are looking for cost-effective miniature pallet jacks or heavy-duty industrial trolleys, you're sure to be satisfied with SafetyLiftinGear's outstanding service!