Vacuum Stone Magnet
Looking for an efficient way to lift heavy stone slabs? If so, you need a powerful stone magnet from SafetyLiftinGear.com! These vacuum lifting devices are immensely powerful, making it easy to lift and manoeuvre stones weighing half a tonne or more.
To buy or hire your vacuum stone magnet, please choose from the following options: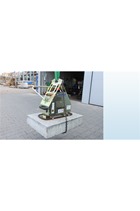 Was:

£4,317.12
(£3,597.60 ex VAT)
Now: £3,597.60
(£2,998.00 ex VAT)
Buy Now
Hire Me
Was:

£5,542.56
(£4,618.80 ex VAT)
Now: £4,618.80
(£3,849.00 ex VAT)
Buy Now
Hire Me
Stone Magnet - Features
Our heavy-duty vacuum stone magnets are:
Easy to handle
Battery-powered (rechargeable)
Compatible with virtually any hoist
Supplied with load securing chain and integral chain box
Available to buy or hire
If you require any assistance when ordering your stone magnet from our website, please feel free to contact our customer service team.