Safety Goggles
Safety goggles are ideal for protecting the eyes from flying debris and dust while working. These durable goggles cover the eye area in its entirety without obstructing your vision.
Our best-selling safety goggles are used on construction sites, in carpenters' workshops, and throughout many other industries where eye protection is a key safety concern. Choose from the following products:

Was:

£1.49
(£1.24 ex VAT)
Now: £1.00
(£0.83 ex VAT)
Buy Now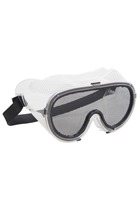 Was:

£2.85
(£2.38 ex VAT)
Now: £1.76
(£1.47 ex VAT)
Buy Now
Was:

£4.29
(£3.58 ex VAT)
Now: £3.16
(£2.63 ex VAT)
Buy Now
Why Wear Safety Goggles?
Your eyes are sensitive, and it's important to protect them. Here at SafetyLiftinGear, we stock a selection of durable safety goggles and other eye protection products that can be used to improve eye safety while working.
Our safety goggles are:
Comfortable, even when worn for extended periods
Suitable to wear on top of glasses / spectacles
CE and EN166 compliant
Equipped with indirect vents for ventilation
With their shape that covers your whole eye area, these safety goggles offer great protection from flying debris, dust and chemicals that might damage unprotected eyes.