Chain Bags
Our high-quality chain bags are used by a number of stage/event rigging companies throughout the UK. Each chain bag is made of strong black fabric with a formed plastic base - perfect for use with manual chain blocks and hoists.
To buy or hire a chain bag, please choose from the following options: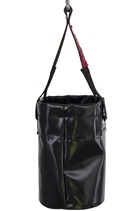 Chain Bag Specifications
Our chain hoist bags are designed to be attached to manual hoists for easy lowering and lifting. Chain bags are ideal for use in the live event industry, as are all of our other event rigging products.
Here's a little bit more information about our chain bags:
Karabiner included for easy attachment
Two different sizes available
Part of our specialist RoadCrew range
If you have any questions about buying or hiring a chain bag or any of our other stage rigging equipment, please don't hesitate to get in touch.