Electric Stair Trolley
Whether you need to move heavy items of machinery such as office photocopiers and leisure equipment, or large storage items such as filing cabinets, we have the perfect solution to improve your operation! Our powered stair climber makes it safe and easy to transport large loads up and down flights of stairs, making it perfect for delivery companies, and use in similar industries.
Working at a speed of 8-9 steps per minute, an electric stair climber is not only safe and convenient, but highly efficient, for moving your load smoothly and quickly. It also has a foldable frame, for adaptable and versatile moving in every position.
For more details about our electric stair trolley, select the product image below:
Was:

£2,158.53
(£1,798.78 ex VAT)
Now: £1,510.61
(£1,258.85 ex VAT)
Buy Now
Hire Me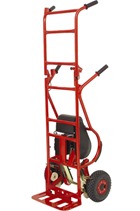 Was:

£3,681.48
(£3,067.90 ex VAT)
Now: £3,413.74
(£2,844.78 ex VAT)
Buy Now
Hire Me
Hire or Buy an Electric Stair Dolly
Depending on your needs, you can choose to hire or buy an electric stair dolly from SafetyLiftinGear, using our convenient shopping and hire baskets.
Simply select either the 'Hire Me' or 'Buy Now' button, then follow the on-screen instructions to either complete your purchase, or to fill out our quick hire form for your quote.
If you have any questions about our electric stair trolley, please don't hesitate to get in touch with our helpful team, using the details provided on our contact page.