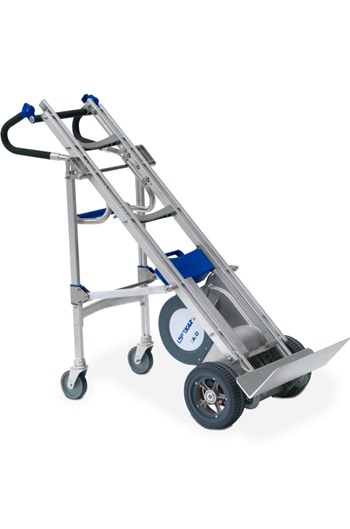 DELIVERY IS 2-3 DAYS FROM DATE OF ORDER (Supplied Direct from Manufacturer Partner)
HD UNI DOLLY 220kg-360kg Heavy Duty Powered Stairclimbers
Product Code:
HD-UNI-DOLLY
Product Info
Specifications
Price Breaks
LIFTKAR HD - The heavy transporter for loads up to 330 kg
Heavy loads are difficult loads. Especially for transporting up and down stairs. It really takes it out on your back and joints. There is a risk of accidents. And sometimes you need two, or even three, people to get the job done. With the LIFTKAR HD you can transport heavy loads quickly and safely up and down stairs
With the stairs behind us, we've still got level ground to cross. With the LIFTKAR HD Dolly you can increase your speed on the flat as well. Once you've managed the stairs, the integrated Dolly system comes into play on level stretches
It's not only about going up and down stairs. You'll often need to cross car parks and company premises too. With the Dolly system you can now do that a great deal faster
With the support wheels folded out, heavy loads can be pushed over level ground with the minimum of effort. The system is activated in no time: simply lift the LIFTKAR HD, extend the Dolly and lock it into place. Transform in seconds from climbing stairs to rolling along on level ground. You can also use the Dolly system to transport high loads through standard doorways
Features:-
For loads up to 360kg

For step heights up to 22cm

Two climbing speeds

Two operating modes (single-step mode/continous mode)

Modular lightweight construction

Rugged frame with patented SANO aluminium profiles

Innovative, integrated step edge braking system

Automatic shut-off mode

Ergonomic hand grips with non-slip rubber coating

UP/DOWN switch on both sides for left and right-handed operators

Perfectly balanced climbing unit for safe operation on steps and stairs

Puncture-proof tyres

High-strength aluminium toe plates

24V quick-change battery unit

HD220 = approx 16 steps/min climbing speed

HD330/HD360 = approx 10 steps/min climbing speed
Price includes machine, battery, mains charger and 3.2mtr strap
Various extras/options available, please see attached data sheet
DELIVERY IS 2-3 WEEKS FROM DATE OF ORDER
Exclusive Web Only Price!
Option code: HD-UNI-DOLLY-060720
Was:
£6,944.57
£5,787.14 (ex VAT)
Ask SafetyLiftinGear a Question
Login or Register to Ask a Question