Rescue Stretchers
Our rescue stretchers are designed to give maximum comfort to anyone who is injured or contaminated. A rescue stretcher allows the victim to be safely evacuated from the scene and reduces the risk of further injury whilst moving. At SafetyLiftinGear we understand that a rescue stretcher must be reliable. That's why our rescue equipment is made to the highest-quality to make sure they will last use after use.
The rescue stretchers are foldable to ensure they can be easily transported from location to location. The lightweight frames allow for easy transportation.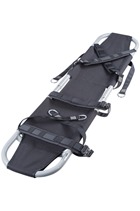 Was:

£604.73
(£503.94 ex VAT)
Now: £503.94
(£419.95 ex VAT)
Buy Now
Was:

£1,151.84
(£959.87 ex VAT)
Now: £959.87
(£799.89 ex VAT)
Buy Now
Rescue Stretchers
If you have any questions about our rescue stretchers our helpful team will be more than happy to help. Our expert team is always available to give you advice on the equipment we supply so you can be sure the product you buy or hire sits your requirements. Call us on, 0808 123 69 69.