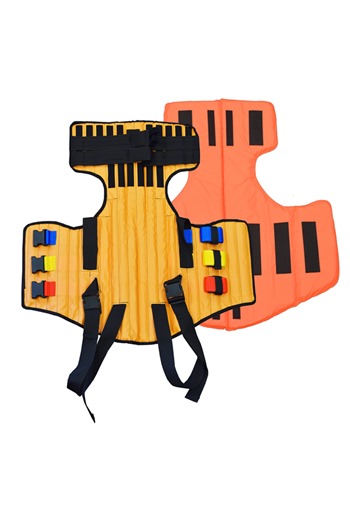 DELIVERY IS 2-3 DAYS FROM DATE OF ORDER (Supplied Direct from Manufacturer Partner)
Abtech Safety EFS102/2 Spinal Splint with Floatation Aid
Product Code:
AB-EFS102/2
Abtech Safety EFS102/2 Spinal Splint with Floatation Aid
The EFS102 is an extrication spinal fixation. Intended for careful immobilization and fixation of the spine in the extrication and transport of injured persons
The removeable flotation insert, allows for the transport of a casulaty from water
The flotation insert fits to the spinal with velcro strips
Two straps complete with Velcro fasteners for head fixation
Three straps of various colours with clasps (tridents) for body trunk fixation in the pectoral and abdominal areas
Two hip straps with clasps for fixation in the hip area for transport of the injured person in vertical position
Model: EFS102/2
Length (flat): 840mm
Width (flat): 880mm
Max user weight: 120kg
Weight: 3.9kg
We are currently experiencing a slower response and longer lead times on Abtech products, if your order is urgent, please do not hesitate to contact us. If we are unable to meet your delivery times on Abtech we offer a huge range of competitive options.
Exclusive Web Only Price!
Was:
£414.63
£345.53 (ex VAT)
Ask SafetyLiftinGear a Question
Login or Register to Ask a Question