Floor Crane
If you're trying to locate a floor crane to aid with heavy lifting applications, look no further than the selection we provide here at SafetyLiftinGear. Ideal for use in workshops and other industrial environments, our floor crane models are designed to fit a number of specifications, whether you're looking for a counterbalance floor crane or a portable crane with a folding capacity.
The majority of the items in our floor crane selection are available to hire or buy at competitive rates, allowing you to select a payment method to suit the demands of your job.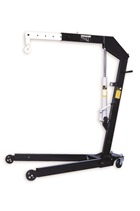 Was:

£835.17
(£695.98 ex VAT)
Now: £695.98
(£579.98 ex VAT)
Buy Now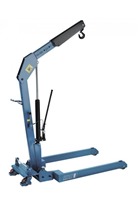 Was:

£1,036.77
(£863.98 ex VAT)
Now: £985.07
(£820.89 ex VAT)
Buy Now
Hire Me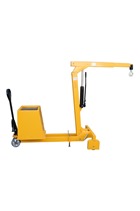 Was:

£2,173.67
(£1,811.39 ex VAT)
Now: £1,811.39
(£1,509.49 ex VAT)
Buy Now
Hire Me
Benefits of Using a Floor Crane
Here are the advantages of using a floor crane to aid in the lifting of heavy workshop items:
Weight flexibility - Ability to select a floor crane with a weight limit to suit the needs of your operation.
Easy to store and move - Our folding floor cranes are the ideal choice if you're looking for a portable crane that is easy to store without taking up too much space.
Adaptable - Each floor crane has an adjustable jib
Safe - Fixed frame floor crane has extendable legs for improved stability, counterbalance crane has pressure relief valve to prevent overloading.
For more information about our floor crane selection, or about any of the other lifting items we offer to hire or buy here at SafetyLiftinGear, please get in touch with a member of our friendly team.