Storage Bags & Tool Bags for Event Rigging
These storage and tool bags are excellent way to store all your equipment and tools whilst you're setting up your event. They provide an easy and safe way to transport all the tools you need for your next job. Our tool and storage bags are durable, resistant to weather conditions and allow you to store everything in one handy space.
Please select from the tool & storage bags below: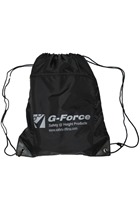 Was:

£4.35
(£3.63 ex VAT)
Now: £2.34
(£1.95 ex VAT)
Buy Now
Was:

£33.09
(£27.58 ex VAT)
Now: £27.58
(£22.98 ex VAT)
Buy Now
More Information:
Our tool and storage bags are perfect for event riggers. They're able to house a variety of tools and equipment, allowing you to transport everything you need for each job. Whether you decide to go for a simple Drawstring Bag or the more advanced Topped Parts Pouch we can guarantee that you'll be happy with your purchase.
If you have any questions regarding our range of tool & storage bags, please contact our specialist customer service team on 0808 123 69 69 or email sales@safetyliftingear.com