Storage Racks
We don't just sell equipment here at SafetyLiftinGear.com - we also sell a variety of heavy-duty storage racks to make sure you've got somewhere to keep it! Our racking products are perfect for a wide range of different environments, and whether you're storing lifting equipment or something else entirely, we think you'll find that our storage racks are entirely fit for purpose.
Some of our storage racks are specifically designed for the lifting equipment we sell, but their applications are not limited to lifting products - we can help you to store all sorts of different things cleanly and efficiently.
Choose from the following racking options: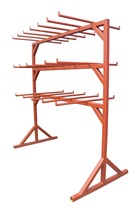 Was:

£1,577.87
(£1,314.89 ex VAT)
Now: £1,351.74
(£1,126.45 ex VAT)
Buy Now
Racking Products Available to Buy or Hire
No matter what sort of racking solution you need, we've got you covered here at SafetyLiftinGear.com. We have sturdy storage racks available to buy and hire, so whether your racking needs are short, medium or long-term, we're confident that you won't leave our website disappointed.
Do you have any questions about our range of storage racks? If so, feel free to get in touch!