Glove Grabber
A Glove Grabber is the piece of equipment you long for when the item you had a minute ago disappears without notice. Perfect for those working at a height with limited carrying ability, our glove grabber clips to your belt and through the use of a dual clip, keep your gloves, cooling towels, keys and everything else you need close to you.
Made from ultra-resilient acetal copolymer, our glove grabber range are resistant to high pH chemicals and have better dimensional stability when compared to other homopolymer formulations. This means our glove grabbers can withstand harsh conditions easily and will serve you well for years to come.
Our Glove Grabber range can be seen below. To view further information on a specific glove grabber, simply select your desired product.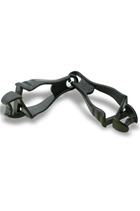 Was:

£3.98
(£3.32 ex VAT)
Now: £2.80
(£2.33 ex VAT)
Buy Now
More Information On Our Glove Grabber Range
We strive to ensure that every single one of our customers is served the best way possible. If you have questions or queries regarding our glove grabber rang then please do not hesitate to contact us by calling 0117 9381 600 or emailing us at sales@safetyliftingear.com