Niko Products & Equipment
Founded in 1999, Niko Ltd has gone on to become a leading European manufacturer of a variety of lifitng equipment, sliding door track systems, overhead conveyor systems, power feed systems and more!
Niko design, manufcature and supply their vast collection of products and equipment to both trade and end user customers and are committed to offering the most cost-effective and appropriate solutions.
Here at SLG, we supply a variety of quality Niko products availavle for both purchase and hire! See our full range below: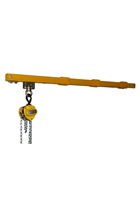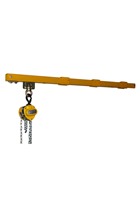 Buy or hire our Niko products today
If you only require one of our Niko products for a short period of time or just for a one-off job, you can submit a hire request!
Simply select the 'Hire Me' button below your desired Niko product to be taken to the product page. Here, select the '+ Hire Me' button to add the product to your hire basket. From here you can proceed to your hire basket where you can submit your hire request where you will recieve a rental quote from a member of our team.
If you would like more information on any of the Niko equipment on this page, then please do not hesitate to get in touch with us today by calling 0117 9381 600 or emailing sales@safetyliftingear.com.