SecurPulley
SecurPulley is a patented pulley product (by Tornomeccania) that was designed to revolutionise the scaffolding world by eliminating the risk of a fall for loads suspended in the air.
Thanks to the unique automatic braking system, lifted loads can be stopped as the rope released by the operator, ideal for a variety of lifting applications making them much safer.
SecurPulley equipment is now available to purchase right here at SafetyLiftinGear!
Was:

£348.98
(£290.82 ex VAT)
Now: £335.98
(£279.98 ex VAT)
Buy Now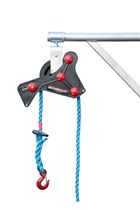 Was:

£503.50
(£419.58 ex VAT)
Now: £527.98
(£439.98 ex VAT)
Buy Now
More on SecurPulley equipment
With the SecurPulley, all manoeuvres that are carried out with regular pulleys are still possible such as lifting and lowering of heavy loads and lowering of empty rope, all without risk and the potential to stop the lift to rest if loads are too heavy or working at high heights.
All SecurPulley equipment are designed and built to conform to the safety requirements if the Machinery Directive ECC 89/392.