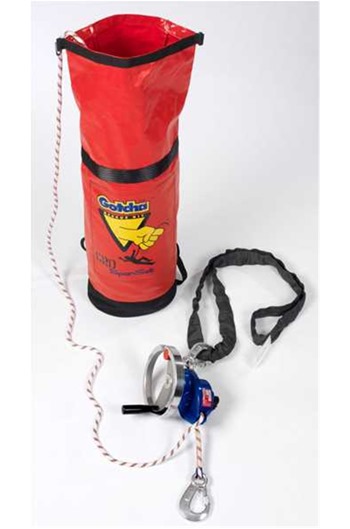 DELIVERY IS 4-5 DAYS FROM DATE OF ORDER (Supplied Direct from Manufacturer Partner)
GOTCHA CRD 50mtr Ladder Rescue Kit
Product Code:
GOTCHA-CRD50M
Product Info
Specifications
Price Breaks
GOTCHA CRD 50mtr Ladder Rescue Kit
The "GOTCHA" CRD Kit is a pre-assembled rescue and evacuation system CE marked to EN341 Class A and EN1496. The system is designed to lower a casualty safely at a constant rate with no risk of an uncontrolled descent. The device can also be used to lift casualties over a short distance
The "GOTCHA" CRD Kit has been designed for either lifting, or lowering of a casualty for rescue. The device can also be used for evacuation from tall structures such as tower cranes and wind turbines. With the simple addition of a pole and remote attachment the system can be used for recovery of a casualty suspended on his fall arrest equipment without the need to cut him free (pole and remote attachment sold separately)
GOTCHA CRD Rescue Kit features:-
Suitable for evacuation from high structures where constant rate lowering and minimal user input are required

This is a no-cut kit. The casualty is raised to release their original attachment

Rescue direction. You can lower the casualty to safety and additionally it is possible to raise a casualty for limited distances

Evacuation direction. The user can descend to safety at a constant rate controlled by the device

Pre-assembled. No assembly is required by the user

Assisted rescue. The rescuer accesses the casualty in order to recover them

Lone evacuation. A single person can descent to safety

Multiple evacuation. Once the first user has safely descended the system can be used by additional users in quick succession

Two person use. The Gotcha CRD is rated for loads up to 225kg

Maximum working lengths. The Gotcha CRD is available in lengths of up to 100 metres for loads up to 225kg

Can be used in the Tower Cranes, Telecoms, Powered Access and Wind Engergy industries

CE EN: 341 Class A
Exclusive Web Only Price!
Was:
£1,451.49
£1,209.58 (ex VAT)
Ask SafetyLiftinGear a Question
Login or Register to Ask a Question