Glass Lifting Slings
If you need to lift / transport large panes of glass, our glass lifting slings are perfectly suited to the job. The slings are made of tough, durable polyester, and each one has a cushioned pad to protect the glass and extend the lifespan of the sling itself.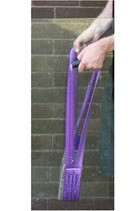 How to Buy or Hire Your Glass Lifting Sling
Our glass lifting slings are available both to buy and to hire - here's what to do:
Select the product you need from above.
Enter your required quantity and click either Add to Basket or Hire Me.
Continue shopping, or head to the Basket page if you've found everything you were after.
Review your order and proceed to our secure online checkout system to complete your purchase.
Alternatively, review your order and proceed to the hire enquiry form to request a hire quotation from the SafetyLiftinGear team.
Any questions? Call our customer service team on 0808 123 69 69.