Breathing Apparatus
A special breathing apparatus is sometimes necessary for use within confined spaces and other emergency situations in order to provide a reliable supply of breathable air. Our reliable Confined Space Breathing Apparatus products are available to buy or hire.
View our full range of confined space breathing apparatus below: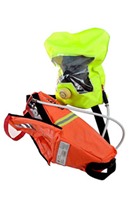 Part of our PPE range
Here at SafetyLiftinGear, we strive to serve our customers as best we can. We understand that some customers have only occasional / short-term requirements, so our confined space breathing apparatus is available to hire as well as to purchase.
In order to rent a breathing apparatus, simply select the 'Hire Me' button below your desired product and follow the simple on-screen instructions to complete your enquiry.
Breathing apparatus isn't the only PPE (personal protective equipment) that we sell here at SafetyLiftinGear. We also supply: