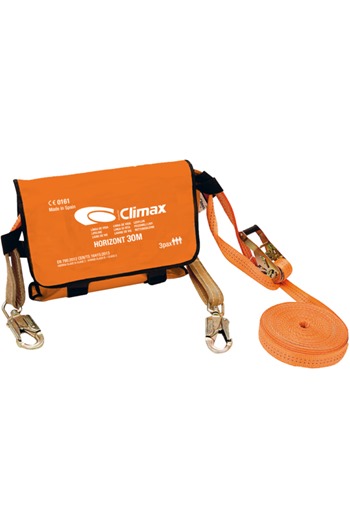 Climax 30mtr Horizontal Temporary Safety Line Kit
Product Code:
CLI-HSL-30M-KIT
Product Info
Specifications
Price Breaks
Climax 30mtr Horizontal Temporary Safety Line Kit
The Climax Horizontal Lifeline 30mtr is a transportable anchor device (type B) that offers either the user or users great autonomy of movement without changing the anchor point
The assembly of the equipment is very agile and fast without needing tools
It offers a working distance between a minimum of 5mtr and a maximum of 30mtr
The Horizontal Lifeline must be installed between two anchor points that are located at the same height and that support at least 15kN
Made of a polyester tape 50mm wide and 30mtr long
Can be used by up to 3 people at the same time
The equipment includes:-
The ratchet element that has a double safety locking system and a regular control of the tension

A bag made of PVC to hold the tape not being used and to protect the ratchet from external agents

Two polyamide anchoring rings of 1mtr length

Two swivel connectors Climax mod. KH-Giro to avoid a wound tape. MBL: 20kN. Open gate: 19mm

Conforms to EN795

Product Weight: 6kg
Exclusive Web Only Price!
Was:
£146.85
£122.38 (ex VAT)
Ask SafetyLiftinGear a Question
Login or Register to Ask a Question