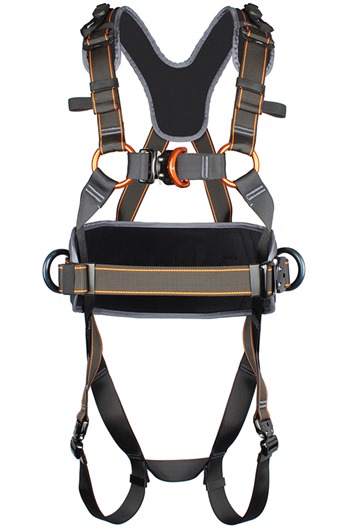 DELIVERY IS 1-2 DAYS FROM DATE OF ORDER (Supplied Direct from Manufacturer Partner)
Heightec H28Q NEON Quick Release Rigger's Harness
Product Info
Specifications
Price Breaks
Heightec H28Q NEON Quick Release Rigger's Harness
Premium multi-adjustable fall arrest and work positioning harness for tower climbing and rigging.
Heightec's brand new NEON rigger's harness is a full body harness that's designed to a high specification, giving riggers maximum comfort and security while working.
The chest rings and articulated hip section (with floating waist belt) align the webbing for optimum fit and superb freedom of movement.
The Ergonomic waist belt features a large lumbar pad for high-level comfort and support during positioning. Side D-rings stay in place for ease of attachment.
This rigger's harness also has SafeLock™ quick-connect leg and waist buckles that make fitting fast and easy. As the buckles do not need to be slackened to remove the harness, readjustment is not required every time it is worn.
Shoulder buckles allow quick and easy adjustment with one hand.
The new NEON Quick Release Rigger's Harness also features integrated parking points, allowing lanyards to be stowed when not in use yet break free in a fall preventing issues from incorrect loading. They are positioned on the shoulder pads to avoid the trip hazard associated with longer lanyards.
Sizing:
Standard torso 95 – 125 cm. Thigh 65 – 95 cm. Waist 70 – 160 cm
This rigger's harness is also available with standard leg buckles.
Harness Features:
Chest rings for comfort & freedom of movement

Large lumbar support pad

Quick connect leg, chest and waist buckles

Durable polyester webbing

Integral lanyard parking points
Harness Specifications:
Size: Universal

Material: Polyamide, mild steel and aluminium.

EN Mass Test: 140kg

Loading: Fall Arrest & Rescue Loads

Weight: 1.9 kg

Conformity: EN 358, EN 361
Exclusive Web Only Price!
Was:
£247.02
£205.85 (ex VAT)
Ask SafetyLiftinGear a Question
Login or Register to Ask a Question