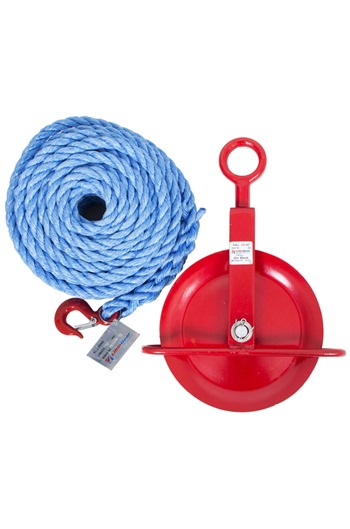 Liftingear Gin Wheel and Ropes
Product Info
Specifications
Price Breaks
GinWheel and Rope Set
Rope Length options 20mtr / 30mtr / 50mtr.
consisting of,

1no Gin Wheel

Capacity 250 kg

Sheave / Wheel diameter 250mm

Maximum rope diameter 20mm.

Polyproplene Rope c/w hook with safety latch.

Diameter 18mm

Longer length ropes available.



Exclusive Web Only Price!
Was:
£105.24
£87.70 (ex VAT)
Ask SafetyLiftinGear a Question
Login or Register to Ask a Question
Mark pickford , Devon
Great product and very fast delivery
22/05/2020
Armeet P, London
Good products, on time delivery
31/05/2023
Graham Lacey, Suffolk
Great products, totally fit for purpose. Fast efficient service by SLG.
13/04/2018
Timea Szalardy, London
Very happy with the service! I will order again!
20/10/2017