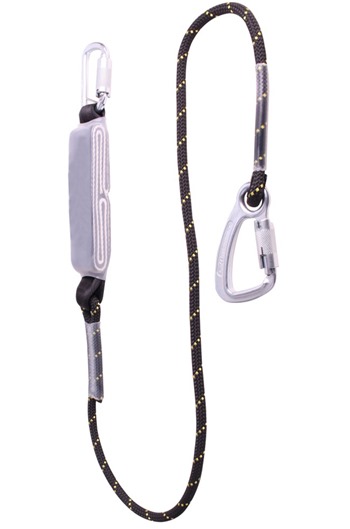 DELIVERY IS 2-3 DAYS FROM DATE OF ORDER (Supplied Direct from Manufacturer Partner)
Ridgegear RGL11 1.7mtr Kernmantle Rope Lanyard & Shock Absorber
Product Info
Specifications
Price Breaks
Ridgegear RGL11 1.7mtr Kernmantle Rope Lanyard & Shock Absorber
This single-leg fall arrest lanyard is manufactured from kernmantle rope (which shows resistance to alkalis, oils and organic solvents).
Ridgegear's kernmantle rope lanyards must be used by an operative who is working from a static position when connected to a fixed anchor point. The lanyard can also be choked around a pole or similar structure.
The lanyard comes equipped with a shock absorbing pack - in the event of a fall, the forces on the user's body are reduced.
Fitted with 1x RGK15 and 1x RGK19
Product code: RGH11
Accredited to: EN 355:2002
Length: 1.7mtr (including connectors)
Material: 11mm kernmantle nylon rope
Max Arrest Force: <6kN
.
We are currently experiencing a slower response and longer lead times on Ridgegear products, if your order is urgent, please do not hesitate to contact us. If we are unable to meet your delivery times on Ridgegear we offer a huge range of competitive options.
Exclusive Web Only Price!
Was:
£176.23
£146.86 (ex VAT)
Ask SafetyLiftinGear a Question
Login or Register to Ask a Question