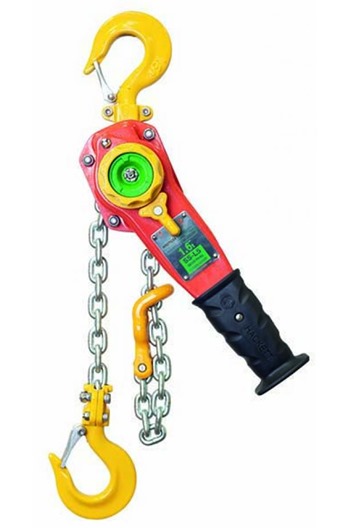 DELIVERY IS 2-3 DAYS FROM DATE OF ORDER (Supplied Direct from Manufacturer Partner)
William Hackett SS-L5 Quad Pawl 800kg Off-shore Leverhoist
Product Code:
WH-035.SS.080
Product Info
Specifications
Price Breaks
William Hackett SS-L5 Quad Pawl 800kg Off-shore Leverhoist
The William Hackett SS-L5 QP is the first lever hoist to incorporate four pawl mechanical engagement functionality. The unique and patented pawl design enhances the capabilities of the hoist allowing all four pawls to engage with the ratchet gear in an offset configuration allowing finer adjustment and tensioning capability while maintaining pawl / ratchet gear engagement. The pawl springs are totally enclosed in the brake chamber and the patented pawl design allows, however unlikely, for both pawl springs to fail and for the quad pawls to maintain full functioning engagement with the ratchet gear making the hoist safer
Key features:-
LIGHT LOAD CAPABILITY: The SS-L5 QP is tested and certified at 2% of the lever hoist rated capacity
DABS (DUAL ANTI-LOCK BRAKE SYSTEM): Allows the load chain to be adjusted in freewheel mode without locking the brake
CONSTRUCTION AND DESIGN: Minimises the ingress of contaminates to the internal brake mechanism surfaces
STAINLESS STEEL PAWL SPRINGS: Specially designed to work with the SS-L5 patented quad pawls. The stainless steel springs are captivated in the brake chamber protecting them against damage
STAINLESS STEEL FIXINGS: All internal springs, circ clips securing thepawls onto the pawl stands, nyloc nuts and socket head cap screws are stainless steel
LOAD CHAIN: The SS-L5 QP only uses fully compliant Grade 8 load chain to BSEN818-7
CORROSION PROTECTION: The complete brake mechanism of the SS-L5 QP is corrosion protected including the pinion shaft, disc hub, change gear, ratchet gear, pawls, pawl stands and load sheave. In addition the load chain guide, stay bolts and chain stripper are also corrosion protected
HIGH PERFORMANCE WATERPROOF GREASE: Used throughout the SS-L5 QP lever hoist enhancing the corrosion protection
ADJUSTABLE TRAVELLING END STOP: The uniquely designed travelling end stop of the SS-L5 QP lever hoist allows the operator to position the end stop at any point of the slack section of the Grade 8 load chain. When the lever hoist is in a final rigged position the travelling end stop can be positioned adjacent to the body of the SS-L5 QP. This has the function of preventing the payout of the chain for whatever reason when the next time the lever hoist is operated
TEMPERATURE RANGE: -40°C to +120°C
PROOF TESTED: every SS-L5 QP lever hoist is proof tested to 1.5 times the Working Load Limit
Capacity: 800kg
Number of falls: 1
Lifting heights available from 1.5mtr to 6mtr
Loadchain: 5.6x15.7mm
Weight based on 1.5mtr HOL: 5.9kg
Exclusive Web Only Price!
Option code: WH-035.SS.080-1.5M
Was:
£464.67
£387.23 (ex VAT)
Ask SafetyLiftinGear a Question
Login or Register to Ask a Question