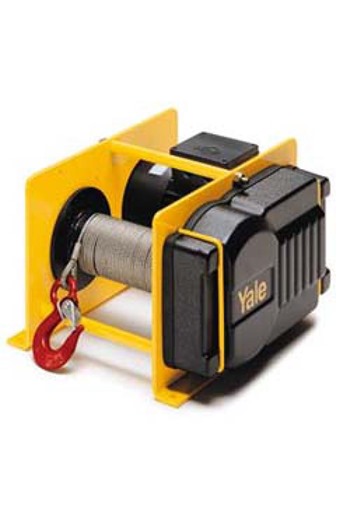 DELIVERY IS 4-6 WEEKS FROM DATE OF ORDER (Supplied Direct from Manufacturer Partner)
Yale RPE5-6 500kg 230v Electric Wire Rope Winch
Product Code:
CM-RPE5-6-230V
Product Info
Specifications
Price Breaks
Yale RPE5-6 500kg 230v Electric Wire Rope Winch
The Yale RPE Electric Wire Rope Winch is designed specifically for performance, efficiency, and safety, and offer many advantages and options
Their extremely compact, practical cube design and universal rope lead-offs allow individual applications in almost any position and this makes them powerful aids for lifting and pulling loads
The unit is supplied with a certificate of conformity showing the units serial number and an operating instruction manual, which contains the manufacturer's CE declaration
Features include:-
Voltage 230v 1phase 50hz 3phase motor protected to IP 54, insulation class F

Compact dimensions due to internal brake motor

Spur gear transmission with helical first gear - ensures smooth motion. Lubricated by grease and can therefore be used in any position

Spring pressure disc brake incorporated in the motor holds the load securely even in the event of a power failure

A plain rope drum is supplied as standard

The rope is secured to the drum in a recess, so that the rope can be wound onto the drum in several layers without damage

42v low voltage pendant control (inc. push button with emergency stop and 2mtr cable) is suppied as standard
Options (please contact us for details):
Different drum designs, e.g. extended to accomodate longer rope, nmachined grooves for exact reeling, with separation web and 2nd rope outlet for working with two ropes

Geared limit switches to limit rope motion in both directions (in combination with 42v low voltage control)

Adjustable slip clutch to protect the winch from overloading

Radio remote control

Zinc-plated version is available on request

Stainless brake
*** When selecting the length of rope please bear in mind that a minimum of 2.5 windings have to remain on the drum (approx 1mtr rope) ***
Model: RPE5-6
Capacity: 500kg
Voltage: 230v 1phase 50hz
Lifting speed: 6.5mtrs/min
Rope dia: 6mm
Usable rope length: 7mtr (1st layer) 16.4mtr (2nd layer) 27mtr (3rd layer) 38.8mtr (4th layer)
Weight: 32.8kg
*** Please note that the prices do not include the Wire Rope ***
DELIVERY IS 4-6 WEEKS FROM DATE OF ORDER
Exclusive Web Only Price!
Was:
£4,579.17
£3,815.98 (ex VAT)
Ask SafetyLiftinGear a Question
Login or Register to Ask a Question