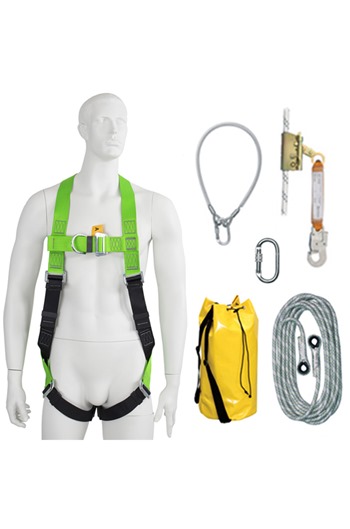 P11 Roofers Height safety Kit
Product Info
Specifications
Price Breaks
G-Force P11 M-XL Roofers Height Safety Kit
Consists of the following accessories:
G-Force P11 Full Safety Harness
The P11 harness is suitable for fall protection and work positioning, its front and rear attachments gives the user a choice of attachment points. This harness is perfect for quick wear as its two colours allows the user to easily distinguish the top and bottom of the harness.

Product Features
Front and rear attachment points
Adjustable in the legs, chest & upper body.
Conforms to EN361 CE standards.
Made in the EU.
Harness Size In CM's

| | Height | Chest | Waist |
| --- | --- | --- | --- |
| M-XL | 170-185 | 90-120 | 85-120 |
G-Force Vertical Safety Line With Guided Fall Arrester
Product Description
The guided fall arrest grab automatically grips onto the rope to avoid falls when working at height. The rope grab has a gate making it easy to fit and remove the grab from the kermantle rope. Also fitted with a small shock absorber and a safety snap hook at the other end to attach onto a harness.
Product Specifications
Rope thickness: 14mm
Rope length: 10 metres
Conforms to EN 353-2 standards.
GFAZ011 Screw Lock Karabiner
Product Description
Steel Construction
Zinc Plated
Product Dimensions
Length: 108mm
Width: 60mm
Strength: 25kN
Opening: 18mm
Conforms to EN362 CE standards.
GFAZ410 Wire Connecting Lanyard
This galvanised steel rope lanyard is complete with PVC cover protection and is only to be used as a fall protection anchor point.
Includes
x1 GFAZ011 Screw Lock Karabiner
Wire length: 2mtrs
Rope thickness: 8mm
Conforms to EN354 and EN795 CE standards.
Heavy Duty Kit Bag AX-011
Strong PVC storage bag perfect for storing fall protection products.
Includes:
x2 Adjustable straps
Dimensions: 300 x 400mm
Max load: 30KG
Colour supplied may vary.
*G-Force Fall Protection are the first choice for many leading PPE and rental companies.
Exclusive Web Only Price!
Was:
£249.58
£207.98 (ex VAT)
Sorry, this product is unavailable for delivery.
Ask SafetyLiftinGear a Question
Login or Register to Ask a Question