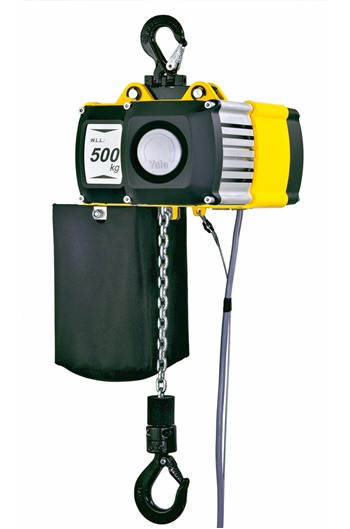 DELIVERY IS 1-2 DAYS FROM DATE OF ORDER (Supplied Direct from Manufacturer Partner)
YALE CPV5-8 500kg 3phase Electric Chain Hoist
Product Code:
CM-CPV5-8-RS
Product Info
Specifications
Price Breaks
YALE CPV5-8 500kg 3phase Electric Chain Hoist
Yale CPV Electric Chain Hoist Features:
SWL: 500kg
Falls of chain: 1
Hoist speed: 8mtrs/min
Available from 3mtr HOL to 15mtr HOL
The new YALE CPV Electric Chain Hoist combines modern design and technical innovation. A robust construction makes the series a versatile tool for industrial applications. Upper and lower limit switches considerably extend the working life span of the slipping clutch, motor and gearbox
Yale CPV Electric Chain Hoist Benefits:
Load sprocket and chain guide can easily be inspected or removed, without disassembly of the complete unit

Designed to FEM 1am. H3 (HMI)

Main line contactor for increased safety

Duty cycle 50% ED for single speed

Electromagnetic spring pressure brake holds the load safely even in the event of power failure

The externally adjustable slip clutch is designed to guarantee a permanent connection between the load and the brake

Motor classification H3 and protected to IP 55 against ingress of dust and water jets

Standard operating voltage: 400V, 3Ph, 50hz

Increased operating safety through 42v low voltage control with encapsulated pendant control to IP 65

Hook suspension

Price includes Chain bag

Fully tested and certified
Get more information on this Yale CPV Electric Chain Hoist today by contacting a member of the SafetyLiftinGear team today.
Exclusive Web Only Price!
Option code: CM-CPV5-8-RS-3M
Was:
£2,406.73
£2,005.61 (ex VAT)
Ask SafetyLiftinGear a Question
Login or Register to Ask a Question