Heavy Duty Ratchet Straps (10 Tonne MBS)
If you're looking for strong, reliable lashing straps that will secure even the heaviest of loads, our 10 tonne ratchet straps are perfect for the task at hand. These heavy-duty ratchet straps have a minimum breaking strength (MBS) of 10,000kg, which means that they can safely be used to secure loads of up to 10 tonnes without fear of failure.
To order your heavy-duty ratchet straps, choose from the following products: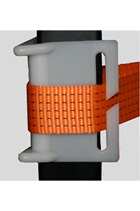 From:
£1.14
inc VAT
(£0.95 ex VAT)
Buy Now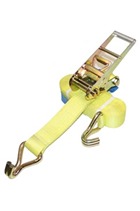 10T Ratchet Straps from SafetyLiftinGear.com
Our lashing straps are...
Fitted with claw hooks at either end
Made of hard-wearing polyester webbing
Available in a variety of lengths, ranging from 6 to 10 metres
Used by many leading transport companies worldwide
Easy to loosen and tighten
We also sell corner protectors to complement our heavy-duty ratchet straps. These should be placed over corners that your strap comes into contact with so as to cut down on abrasion and prolong the lashing strap's useable lifespan.
Not quite what you're looking for?
Not the right ratchet strap for your needs? Browse the full range of ratchet straps available from SafetyLiftinGear to find the perfect strap your your needs.