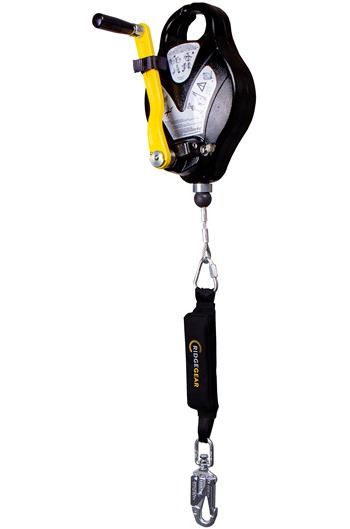 DELIVERY IS 2-3 DAYS FROM DATE OF ORDER (Supplied Direct from Manufacturer Partner)
Ridgegear RGA4/EDGE 15mtr Fall Arrest Block with Recovery Winch
Product Info
Specifications
Price Breaks
Ridgegear RGA4/EDGE 15mtr Fall Arrest Block with Recovery Winch
The RGA4/EDGE is a three way retrieval block with the expected fall arrest capabilities, but with the added extra of an up/down winch mechanism. The recovery feature means operatives who have experienced a fall can be winched up or down to safety. The man-riding winch function must only be used for retrieval, NOT for access/egress
The addition of a shock pack means this block can be used whilst working over the edge. However horizontal use or foot level attachment should still be discouraged as there is a risk of serious injury from striking objects.
This unit can be used as a standard fall arrest block, but in the event of a fall the operative can be winched up or down to safety almost immediately
Max user weight: 140kg
Max arrest force: <6kN
Handle turn ration: 1:10
Fittings: Double action high tensile steel swivel karabiner
Conforms to: EN360:2002, EN1496:2017 B, VG11.060
Weight: 10.9kg
Exclusive Web Only Price!
Was:
£1,010.79
£842.33 (ex VAT)
Ask SafetyLiftinGear a Question
Login or Register to Ask a Question