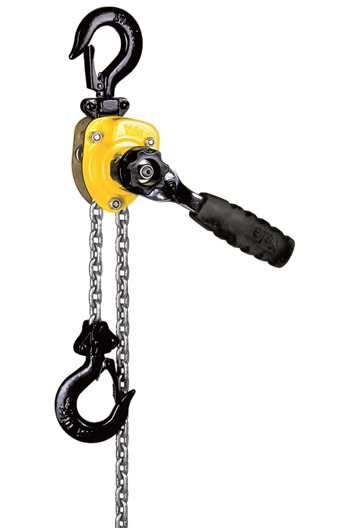 YALE 'HANDY' 250kg Ratchet Leverhoist 1.5mtr to 6mtr
Product Code:
CM-HANDY-250
Product Info
Specifications
Price Breaks
YALE 'HANDY' 250kg Ratchet Leverhoist
This Hoist is the smallest and lightest Ratchet Leverhoist in the Yale range!
Due to the multitude of application possibilies, e.g. industry, trade, and service, this Ratchet Leverhoist really is indispensable. The extremely low tare weight and very compact design makes the Hoist easy to use, even in very confined working conditions. The standard free chaining device serves to quickly attach the load or to pull the chain through the Hoist in both directions
250kg SWL
Lifting Heights available: 1.5mtr, 3mtr, 4mtr & 6mtr
Falls of loadchain: 1
Chain diameter: 4x12mm
Closed height: 240mm
WeightL 2.2kg (based on 1.5mtr height of lift)
Fully tested and certified
Exclusive Web Only Price!
Option code: CM-HANDY-250-1.5M
Was:
£151.66
£126.38 (ex VAT)
Ask SafetyLiftinGear a Question
Login or Register to Ask a Question
Customer Reviews
Bob Dunn, Yorks/Humberside
Very useful piece of kit - great in ergonomically restrictive situations. Complete with it's own carry bag and shoulder strap, as you need to keep it with you or locked away when not in use to prevent it going astray.
15/04/2021
Rob, London
A very handy compact hoist. Perfect for confined spaces. Simple to use. Fitted my budget and whilst not being cheap it brings quality and reliability.
29/04/2022
Steve, Flintshire
Good item very useful bit expensive but it's a quality one so you get what you pay for .
30/10/2021